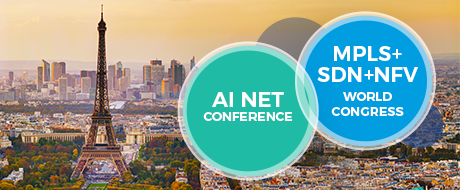 Net als de voorbije jaren, is Comarch weer van de partij en gold sponsor van twee conferenties die op dezelfde dag plaatsvinden: "MPLS+SDN+NFV World" en "AI Net". Deze gaan door in de Marriott Conference Center in Paris, tussen 9 en 12 april.

Dit jaar is de 21ste editie van het MPLS+SDN+NFV congres. De technische conferentie op gebied van IP, MPLS, SDN, NFV en AI is the place to be om alle nieuwe telco innovaties te ontdekken. Hier zal Azam Beyk, OSS consultant bij Comarch, ons meer vertellen over SDN & AI tijdens zijn presentatie.

AI net vindt voor de tweede keer plaats, tussen 9 en 11 april op dezelfde locatie. Met de slogan "Exploring new frontiers" duikt men dieper in de topics van Artificial Intelligence en Machine Learning. Hierbij zal onze expert Wojciech Dziunikowski een presentatie geven genaamd "Biz-Dev-Ops-AI paradigm - How to adopt AI in your organization?". Mis deze niet!

Meer praktische info en het programma? Bezoek de websites van MPLS of AI conferences.
 
Passeer zeker langs onze stand, vlak bij de ingang, nummer 106. Wij hebben nog een aantal gratis tickets. Interesse? Contacteer ons.