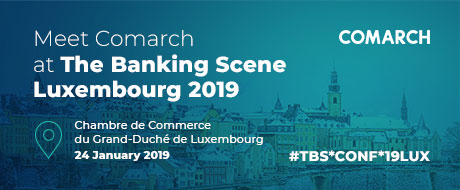 Zoals de afgelopen jaren is Comarch ook dit jaar sponsor van The Banking Scene. Na jaren succes op de Belgische markt gaat de organisatie nu ook in Luxemburg een eerste editie lanceren. Hierbij is Comarch two star sponsor en spreker.
De conferentie zal trachten uit te leggen hoe de toekomst van private banking er over een paar jaar zou kunnen uitzien in Luxemburg. Onderwerpen zullen gaan van chatbots tot IoT, UX en Open Banking.
De agenda bevat sprekers van onder anderen Luxhub, Mastercard en Comarch. Mis zeker niet de presentatie over "True UX in Wealth Management: what and how?" door Werner Soudain, business development manager voor financial services bij Comarch.
Datum: 24 Januari 2019
Plaats: Chambre de Commerce du Grand-Duché de Luxembourg, van 15.00 tot 19.30
Meer informatie kan u vinden op de website van The Banking Scene Luxemburg.
Indien u wenst aanwezig te zijn, laat het ons weten – wij hebben nog een aantal gratis tickets!