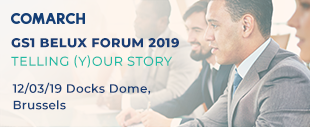 Gezien het succes van vorig jaar, zal Comarch op 12 maart opnieuw deelnemen aan het GS1 Belux Forum dat doorgaat in Docks Dome te Brussel vanaf 12 uur.
GS1 is het jaarlijkse netwerkevent dat gericht is op een breed publiek uit verschillende sectoren. Het centrale thema van deze nieuwe editie is "Telling (y)our story". Sprekers zoals Vincent de Hertogh (Director supply chain strategy & innovation van Delhaize), Martine Pawels (Logistics Director Colruyt) en Bruno Claes (Directeur administration commerciale Carrefour) komen hun ervaringen delen over de implementaties van de GS1 standaarden alsook de nieuwe uitdagingen in technologische oplossingen bijv. Blockchain, IA of IoT,  die daarmee gepaard gaan.


Voor meer inlichtingen over het programma, klik hier. De inschrijving is helemaal gratis via die link. 
Geïnteresseerd om ons te ontmoeten? We verwelkomen u graag op onze stand (9) in de Expo hall tijdens de koffiepauzes of tussen twee netwerkmomenten door.