Op 15 januari 2019 werd de prijs in Brussel overhandigd aan Wojciech Pawlus, Managing Director voor de Benelux, door Artur Orzechowski, Pools ambassadeur in België. De Comarch Group blijft zich wereldwijd sterk ontwikkelen. België blijft samen met de andere Beneluxlanden een van de meest strategische markten van het bedrijf. Comarch is sinds 2006 actief in de Benelux, met kantoren in Brussel, Luxemburg en een recent geopende vestiging in Rotterdam. De commerciële activiteiten van Comarch  richten zich voornamelijk op het promoten van IT-systemen in verschillende verticale sectoren, zoals de detailhandel, telecommunicatie, banken, verzekeringen en de productiesector. De laatste jaren bleek de Benelux een verrassend interessante regio voor de groep. Na Polen en Duitsland groeide de Benelux uit tot de derde grootste markt van Comarch. In 2018 overschreed de verkoop van Comarch-software in de Benelux-landen de kaap van 20 miljoen EUR.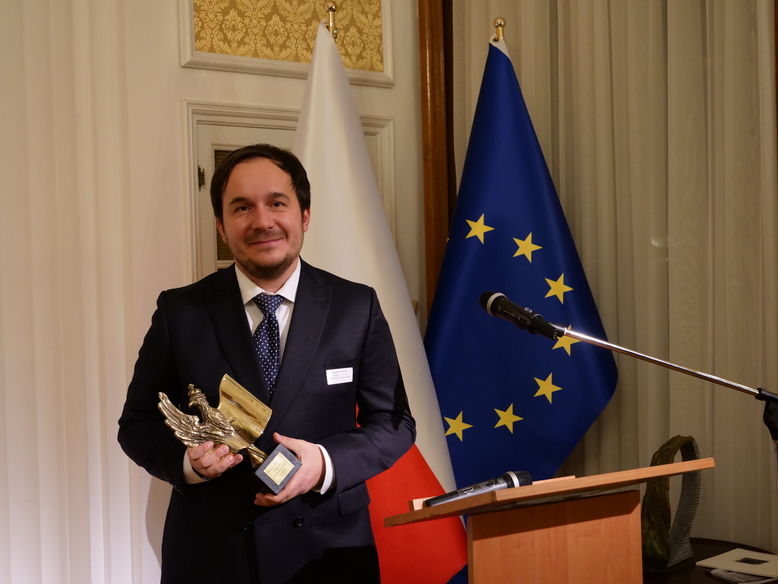 "De 'Eagle of Polish economy' is een bijzondere onderscheiding voor Comarch. We zijn erg trots dat ons bedrijf wordt gezien als een digitale challenger. 2018 was opnieuw een recordjaar voor Comarch in de Benelux. We kregen heel wat nieuwe strategische klanten bij in de bank-, verzekerings-, olie- en gas-, chemie-, productie- en telecommunicatiesector. Gezien de vele mogelijkheden in deze regio plannen we om onze activiteiten uit te breiden naar nieuwe gebieden zoals E-health en het Internet of Things", vertelt Wojciech Pawlus, Managing Director voor de Benelux.
De onderneming focuste haar regionale activiteiten bij aanvang voornamelijk op de verkoop van IT-systemen voor de telecommunicatiesector (KPN, Orange of Unleashed) en de financiële sector (ING, AXA en Delta Lloyd Life). De afgelopen jaren heeft Comarch ook haar Benelux-aanbod van oplossingen voor loyaliteitsmanagement en e-facturatie uitgebreid. Enkele gekende regionale bedrijven die gebruik maken van de innovatieve producten van Comarch zijn ERGO, Telenet, Brussels Airlines en Hudson's Bay Nederland. Het bedrijf is ook zeer actief in Luxemburg met topklanten zoals Swiss Life, AXA, SGG of Orange Luxembourg.
In de Benelux kan Comarch rekenen op een businessteam van sales- en marketingprofessionals, consultants, projectmanagers en analisten die gespecialiseerd zijn in IT-systemen voor telecom, finance, retail en productie. Comarch promoot in de Benelux onder andere haar kernproducten voor bss/oss, loyaliteit, e-facturatie, vermogensbeheer, digitale verzekering, corporate banking en outsourcing, IT-infrastructuur en datacenterdiensten.