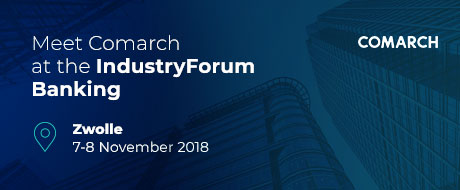 Comarch zal dit jaar behalve de IndustryForum Insurance,ook IndustryForum Banking bijwonen en sponseren. Het event vindt plaats op 7 en 8november in Zwolle. Dit event brengt CXO's van verzekeringsbedrijven samen en geeft hen de kans om nieuwe ontwikkelingen en innovaties te ontdekken op vlak van data en digitale technologieën voor een betere customer engagement in de bankensector.
De topic van deze editie luidt: "Institute or Platform: What is the face of the 2025 Bank?" Zo heeft ook Comarch zijn eigen visie over de markttrends in de banksector en technologische ontwikkelingen die onmisbaar zullen zijn voor een verdere groei en vruchtvolle toekomst voor bankinstellingen.
Datum: woensdag 7 en donderdag 8 november 2018
Plaats : IJsseldelta Center, Boerendanserdijk 19, 8025, Zwolle, Nederland
Agenda & Info: Hier
Als u wenst deel te nemen, laat ons dit zeker weten door een mail te sturen naar Wim Van Wilderode en schrijf u dan in via de website van Management Events.
Tot binnenkort!